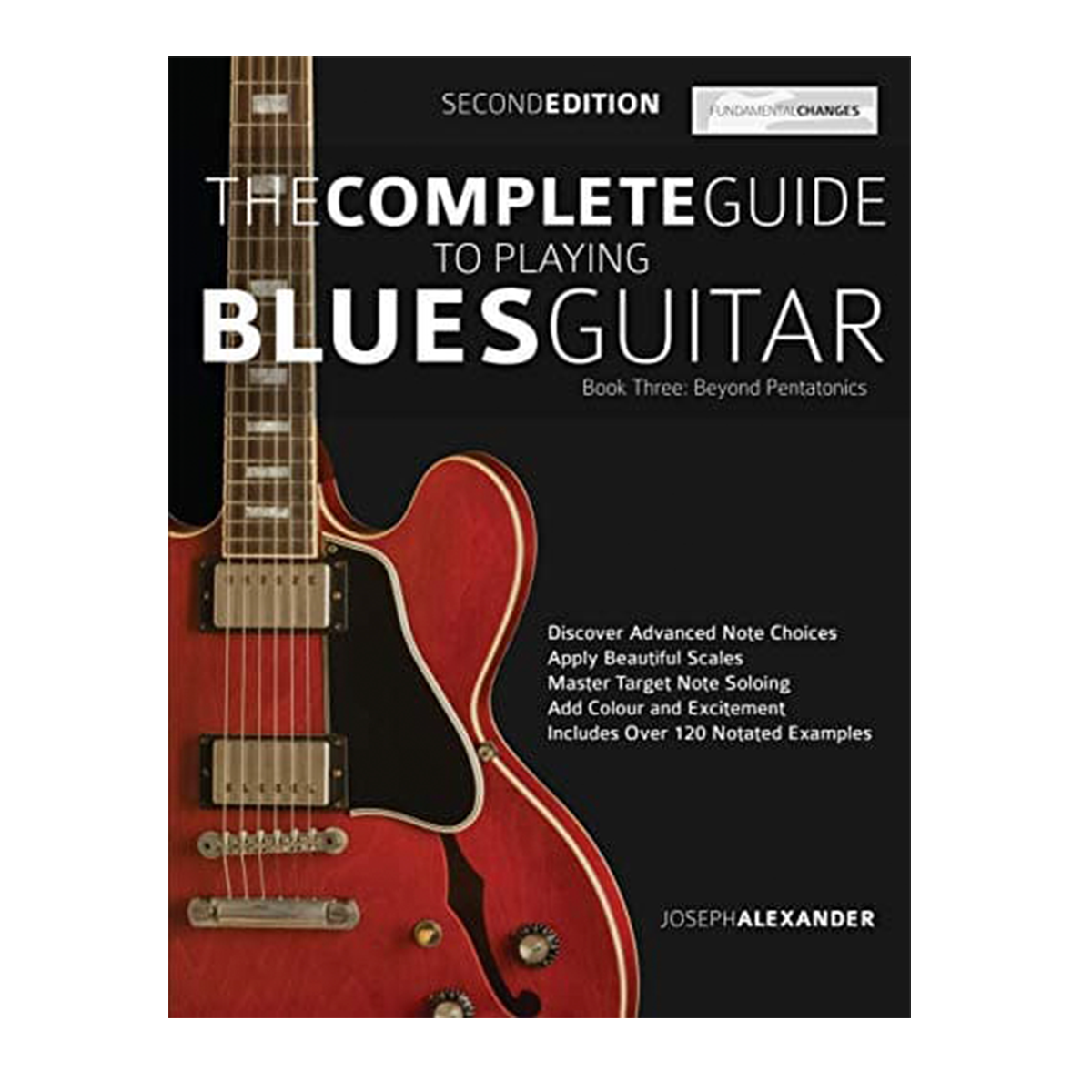 The Complete Guide To Playing Blues Guitar
Pickup currently unavailable at Store
The Complete Guide To Playing Blues Guitar
Store
Pickup currently unavailable
6 Quiet Street
Bath BA1 2JS
United Kingdom
+441225319540
Go way beyond basic blues guitar soloing
Have you ever listened to a master blues musician and wondered why their solos sound different and more powerful than yours?
Do you find yourself playing the same old blues licks, time and time again? 
Are you stuck in a rut and feel like you're "exploring scales" in your blues guitar solos? 
Do you want to find the "secret" notes that the blues guitar masters find with ease? 
Complete Blues Beyond Pentatonics takes you on an unforgettable journey to find creative scales and note choices in your blues guitar soloing
Warning! Contains the blues guitar soloing secrets of the masters. 
Discover the locations of the most powerful notes in a blues solo... and exactly when to use them
Master new, sophisticated scales for blues guitar solos that intrigue and captivate your audience
Learn to outline each chord in the 12-bar blues individually with scales, arpeggios and bends
Understand how to move beyond playing one scale over the whole 12 bar blues
Apply the right blues scale at the right time to create an articulate map of the notes to use in your solos
Beyond Pentatonics instantly shows you how to break the minor pentatonic soloing rut that quickly traps all blues guitarists. In part one you'll quickly learn a powerful system to target the notes in each chord that create the greatest emotional impact. 
Then, the second half of the book teaches you to apply a whole wealth of new scales, arpeggios and colours at each point of the 12 bar blues. You'll learn every essential scale choice and then hundreds of licks to apply them musically in context. These licks quickly build to form powerful, expressive solos. 
Throughout, there are plenty of "tricks of the trade" such as which notes to target when, and exactly how far to bend a note. 
Here's what you get
A complete blues guitar method that takes you way beyond the pentatonic scale
A short hand of which notes to target to create the most emotional musical effects
A guide to articulating each chord in the 12 bar blues, rather than "draping" everything with the blues scale
A detailed rundown of the most interesting scales you can use on the blues, and how to slip them seamlessly into your blues guitar solo
Bonus Over 125 downloadable audio tracks so you can hear every example in action
Bonus 10 original backing tracks to help you develop your skills. 
Discover advanced scales for blues guitar...  and when to use them!
You probably know by now that simply knowing a scale doesn't mean you can play it musically. So, while Blues Guitar Beyond Pentatonics gives you a complete breakdown of every usable blues scale, it also teaches them in conjunction with actual blues guitar language. You'll seamlessly slip your new blues guitar licks into your existing playing to create sophisticated, musical blues solos.
Hear advanced blues guitar soloing in action
Reading music from paper is one thing, but once you hear how to apply it, it becomes music. Complete Blues Guitar - Beyond Pentatonics contains 125 audio examples and backing tracks to get you inside the music, and quickly apply every concept in an authentic way. 
Fundamental Changes bring you the most popular guitar books on Amazon.
With 100 titles, 500,000 books sold and over 5000 5* reviews, you can be confident that your guitar education is in the best hands.
There is no better, more detailed book to teach you the melodic secrets of blues guitar soloing.
Buy it now to go beyond pentatonic scales in your blues guitar solo